Feldenkrais Method®
We learn to move by exploring, playing, enjoying who we are.
"With every acquisition of new knowledge and skill we achieve greater and greater independence of some permanently acting restraint.... It is essentially a question of learning and not of infirmity."
Dr. Moshe Feldenkrais
The Feldenkrais Method of movement education is a unique approach to learning about how we move and interact. We learn about our potential by moving, including our mental, physical, and social interaction throughout our lives. The Method focuses on our ability to restore or re-experience movement by learning about simple movement patterns and how self-awareness can bring new options and a healthy approach to change. The Method is particularly effective with chronic pain and chronic physical conditions like fibromyalgia, migraines, thoracic outlet syndrome; neurological disorders (CP, MS, Parkinson's, and stroke), and it also offers improved performance to musicians and athletes.

In a Functional Integration® (FI) lesson, hands-on guided movement is the basis for evaluation and learning about how you move and how you can either overcome or learn to creatively live with your physical situation. Self-awareness can bring self-correction and an ability to reduce or eliminate pain and mobilize intention in a healthy way.

Awareness Through Movement® (ATM) classes are verbally guided movement sequences that encourage attention to specific aspects of movement. The Process of learning about how you move and interpret the instructions is an interesting and enjoyable experience. Please contact for class schedules and locations.
Hendrickson Method®
The Hendrickson Method of massage for orthopedic conditions is a form of soft tissue manipulation. It is a vital and effective technique that blends manual therapy and Eastern energy healing. You will experience long-term benefit to joints, muscles, and connective tissues, and an improved capacity to enjoy your daily activities. You may recover lost movement, reduce or eliminate pain, or live with less stress and more comfort.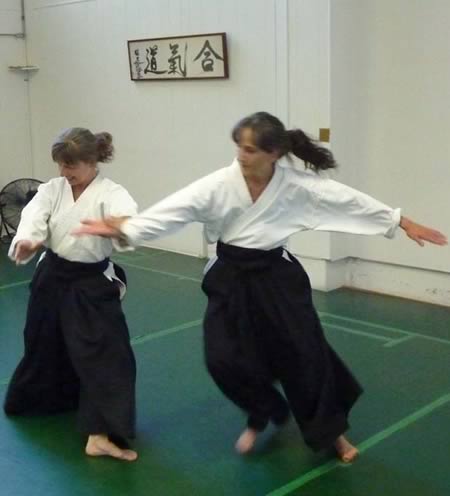 Aikido
"The art of peace begins with you. Work on yourself and your appointed task in the Art of Peace. Everyone has a spirit that can be refined…a suitable path to follow. You are here for no other purpose than to realize your inner divinity and manifest your innate enlightenment."
Morihei Ueshiba O'Sensei, founder of Aikido
Aikido, the art of peace, is a modern Japanese martial art, developed by Morehei Ueshiba (1883-1969). The student learns to move or connect with a partner, blending with the energy, or ki, that evolves during the attack.
The classes offer an opportunity to recognize the way you react within a dynamic situation and learn to interact in a relaxed and focused way under pressure. The principles of reconciliation, empathy, harmony, and cooperation are transferred to everyday life, offering real personal development.
Elaine is a 5th degree black belt. She teaches at City Aikido in San Francisco on Wednesday evenings, 7:30-8:30pm.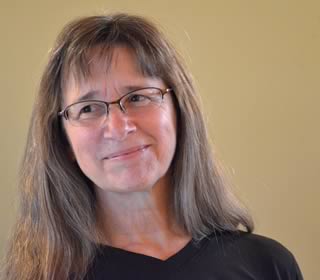 Biography: Elaine Yoder
Elaine Yoder is a Guild Certified Feldenkrais PractitionerCM who has practiced various forms of movement, including dance, running, and martial arts.
She is a Hendrickson Method therapist, a form of soft tissue manipulation that blends manual therapy and Eastern energy healing.
She maintains a private practice  in Berkeley, California. She teaches Awareness Through Movement in Berkeley on Thurs. and Sat. mornings. Contact her for specific times and locations.
Elaine Yoder has been practicing Aikido in the San Francisco Bay Area since 1977. She holds a 5th degree black belt and has been teaching at City Aikido in San Francisco for over 20 years.